Audi Corporate Partner Program Details
Overview
This program is designed to benefit full time employees of our valued partners. Purchase any new qualifying Audi model and receive an additional cash incentive (see chart below) based on purchase type.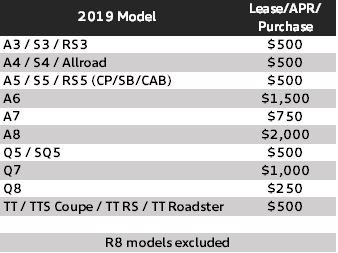 Here are the details about the Audi Corporate Partner Program:
1. How it Works—Present original, unaltered certificate to a participating authorized Audi Dealer in Canada. When the participating Dealer verifies by reference to this certificate and your identification that you are an eligible purchaser, the participating Dealer will sell the eligible vehicle to you with the applicable discount based on purchase type (see chart).
2. Participating Dealers— All Audi Canada Dealers are participating in this Corporate Partner Program. See Participating Dealers tab at the top of this page for the complete list.
3. Parts and Accessories—The participating Dealer also may sell you parts, accessories, finance and insurance products and other items in the same manner as any other retail purchaser. Participating Dealers may take vehicles in on trade and may acquire and dispose of such vehicles as in any normal retail transaction on such terms as they choose. All the transactions contemplated by this paragraph are strictly between the purchaser and the participating Dealer and are to be negotiated solely between the Dealer and the purchaser.
4. General—In general, unless there has been advance written notice to the contrary, all new and unused Audi vehicles, excluding R8 and R8 Spyder are eligible. Vehicles may be sold at the Dealer's discretion from their stock or may be factory-ordered. Dealers are not required to sell you a vehicle from their stock that is in short supply; however, any vehicle offered under this program also may be factory ordered. Please be advised that Audi Canada may from time to time restrict the availability of certain vehicles under this program. In such cases, Audi Canada will inform participating Dealers in advance in writing of the terms of such restrictions or incentives, and the Dealer will have to comply with any such terms.
5. Incentives—Other applicable retail incentives may apply in addition to the partner discount, depending on Purchase Type. Please see your local Audi Dealer for complete details.
6. Claims—Audi Canada has the right to audit all the records pertaining to this transaction. If Audi Canada finds that purchaser violated any terms or falsified any documentation of Audi Canada's Corporate Partner Program, Audi Canada may cancel purchaser's privileges and/or the partner's privileges to acquire vehicles under any special Audi Canada programs and may, at its discretion, seek to recover any special benefits the purchaser received.
7. Final Decision—Audi Canada's decision is final in all matters relating to this program. Audi Canada has the right to amend or cancel this program at any time for any reason.
8. Customer Contact—Audi Canada collects personal information that you provide in order to improve our products and services and to offer you services, surveys or marketing material which may be of interest to you. For these purposes, Audi Canada shares your information with Audi Finance, your dealer and the dealer who has responsibility for the market area in which you reside. To review Audi Canada's privacy policy, you may visit www.audi.ca or call 1.800.822.2834.
9. Duration—The Audi Corporate Partner Program is effective as of January 3, 2019 and runs through January 3, 2020, based on delivery date. (In order to qualify for the Corporate Partner Program discount, you must take delivery of your vehicle on or prior to program end date.)